Proven On-page SEO Checklists that Works
In this blog, we will discuss the Ultimate On-page Seo Checklists that work wonders.
On-page SEO(Search Engine Optimization) is the practice of optimizing individual website pages in such a way as to rank higher and earn more relevant traffic in search engines(SERPs). The goal of on-page SEO is to make your website more accessible to both users and search engines.
On-page SEO checklists are crucial for ensuring your website is optimized for search engines. By following these checklists, you can improve your website visibility and user experience, resulting in increased traffic and conversions. Some important on-page SEO checklist items include optimizing your meta tags, using proper header tags, including relevant keywords in your Content, ensuring your website is mobile-friendly, and improving your website's loading speed. 
Improving your website's search engine ranking is crucial for driving traffic and increasing visibility. One way to do this is through on-page SEO, which involves optimizing individual pages on your website. To help you get started, we've compiled a list of 17 on-page SEO checklists to ensure your website is optimized for search engines.
There are various key factors to be considered while optimizing your on-page SEO. 
17 On-Page Seo Checklists that work
 Keyword Research
The first step in any successful on-page SEO strategy is conducting thorough keyword research.
This process of keyword research involves identifying the keywords phrases that your target audience is searching for to ensure that your website's Content is relevant and useful. And then optimizing your website content around those keywords.
Just Check this example, Google keyword suggester:
Keyword Research Checklist 😎     
Discover Keywords using Google Suggest

Discover More Keywords using Tools like SEMrush, Ahref, Ubersuggest, keywordtool.io, Google keyword planner, etc.

Find Questions and Propositions using Answer the Public

Identify Low-Competition Keywords and Start with them
Keywords in the Title tags
A title tag is one of the elements of the website that denotes the title of a web page. Use Keywords in the Title Tags for better results, as it is one of the important factors in on-page SEO. Keep your title tag under 60 characters.
Google puts more weight on words found at the beginning of your title tag.
  You can see from the above example :
Most pages that rank on a competitive keyword strategically place their keywords at the beginning of their title tag. Therefore always include your target keyword at the beginning of your title tag.
SEO Friendly URLs
A lot of people use more than 60-character URLs that do not look professional. Url structure is also one of the important factors in an on-page SEO strategy. Using Keyword in the URL and keeping it short and crisp can increase your probability of ranking on Google's top search results. 
Do you know? 
Just like your page title tag and Content, Google uses your URL as a parameter to help them figure out the topic of your page. Creating an SEO-friendly URL and adding a keyword to it, for your website is crucial for improving your search engine rankings.
Keyword in Meta-description
           Meta descriptions briefly summarize what a page is about and appear in search engine results. Meta should be compelling, accurately reflect the Content of the page, and include relevant keywords. It is one of the most important on-page SEO checklists. 
 Use a Keyword in your Meta Description Tag. Including relevant keywords in your website's meta descriptions can bring significant benefits to your online presence. It can enhance your SEO, resulting in higher search engine rankings, increased web traffic, and improved sales. 
Keep your meta description under 155 characters to ensure they display properly in search results. Don't forget to include a call-to-action in your meta description to encourage clicks and increase your website's CTR.
Check, how top Seo Tools websites have been using their target keywords in their meta description:
Keywords in the Header tags
These tags (H1, H2, H3, etc.) help organize the Content of a page and make it easier to read for both users and search engines.
 Using keywords in your heading tags is an important on-page SEO strategy that can help improve the relevance, user experience, and visibility of your Content in search engine results pages. Heading tags can help you organize your Content and create a logical structure that makes it easier for users to understand. 
Use Your Keyword in H1 Tag and use Related Keywords like LSI Keywords or search query in the H2, H3, and H4 Tags for better results. Make sure to use only one H1 tag per page and use H2 and H3 tags to break up your Content into subheadings. Try to add keyword synonyms or LSI Keywords in subheading tags. 
Content Optimization
Content optimization is an important aspect of SEO that helps to ensure that your website's Content is properly optimized for search engines (SERP). This includes ensuring that your Content is high-quality, informative, and relevant to your target audience.
Content optimization strategy in SEO includes identifying relevant keywords and phrases and then incorporating them into your Content in a way that is both natural and effective. Content is the King in SEO, and Context is the Queen. Quality content has more probability of ranking on Searches.
Content optimization is a critical component of on-page SEO. By creating valuable, relevant, and well-optimized content, you can improve your search rankings, attract organic traffic, engage users, and establish your website as an authority in your industry.
 Write high-quality and unique Content that provides value to your audience and includes your target keyword throughout the page.
Image Optimization

Images and info-graphics are an important part of the website, but they can also slow down your website if not optimized properly. Make sure to compress your images to reduce their file size without sacrificing quality.
Optimizing your images with relevant keywords can improve the website's SEO. Image optimization strategy involves optimizing the size, format, and alt text of images on your website in order to improve user experience and make them more accessible to search engines. 
Use descriptive file names and alt tags that includes the keywords that you are targeting, and it will help search engines understand what your images are about. Finally, make sure to use responsive images that adjust to different screen sizes to improve user experience.
Internal Linking
Internal linking is one of the important aspects of an on-page SEO checklist that involves linking one of the pages of the website to another page on the same website. Make sure that your website has a clear and intuitive navigation structure.
Internal linking process involves linking to the other pages within the website in order to improve its navigational structure. It also assists search engines understand the structure of your site.
 The best way to do it is by linking to relevant pages of the website with relevant anchor text on your website.
For example: If you have a blogging website, then you can link similar blogs internally.
By optimizing these on-page factors, you can improve the visibility and relevancy of your website in search engine result pages(SERPs), which can lead to increased traffic, engagement, and conversions.
Overall, on-page SEO checklists are an essential tool for any website owner looking to improve their website's search engine rankings & drive more traffic to it. By taking the time to implement these best practices, you can set your website up for long-term success and achieve your online marketing goals.
Use a Keyword at the beginning of your post
Use the Keyword Once in the first 100 Words of the blog or Content. Search engines typically give more weight to the first few words of a page title, meta description, and Content. By including relevant keywords at the beginning, you can signal to search engines the topic and relevance of your Content. 
It's important to note that while using keywords at the beginning of your Content can be beneficial for SEO, it's also important to use them in a natural and organic way. Overusing keywords, or "keyword stuffing," can actually harm your SEO efforts.
Use Outbound Links
 Have you seen the Wikipedia website?
The info website is fully loaded with all other external links for some extra information. Google loves this Wikipedia. Try to add at least two outbound links to every blog post you create.
Those outbound links to the related authority sites (popular blogs, news sites, and .edu and .gov resources). 
Outbound links can have several benefits for SEO and user experience. By providing valuable resources and information to your users and establishing your website as a credible source of information, you can improve your website's visibility, engagement, and authority.
Use Core Web Vitals signals in Google Search Console
Add your website to the Google Search Console and utilize the Core Web Vitals signals to optimize the on-page of your website. 
Optimizing for Core Web Vitals can have a significant impact on:
Website user experience,

Search engine ranking, 

Overall performance of the website
 By focusing on these metrics, you can ensure that your website is accessible, user-friendly, and engaging for your visitors.
Google Search Console is a best SEO tool offered by Google that helps you check mobile usability, sitemaps, page experience, and your overall site experience.
Also, make sure that your page is indexed Via Google Search Console.
Page Speed
Page speed is how fast a site opens when a user clicks on it. It is one of the most important factors in on-page SEO.
A fast-loading website provides a better user experience for visitors, which can lead to higher engagement on the website, longer page visits, and lower bounce rates.
Google and other search engines use page speed as a ranking factor. Websites that load quickly are more likely to rank higher in search results.
Fast page speed is important for both user experience and SEO. By optimizing your website for page speed, you can improve engagement, visibility, conversions, and overall performance. You can also optimize your website's loading speed by compressing images, minimizing HTTP requests, and also by reducing the size of files.
You can reduce the load time of the website by compressing heavy images on the website. For the WordPress website, use WP Rocket, W3 Total Cache, WP Smush, etc.
You can view your website page speed by visiting: https://pagespeed.web.dev/
Check the above Google Search Console dashboard for monitoring your website's on-page SEO for free.
Just put your website URL there, and you will get the Desktop and Mobile page speed insight as shown in the above screenshot.
Create and Publish long Content
Several industry studies and research (like this one ) have shown that longer form of Content ranks significantly higher in Google. The average content length of a website that ranks in the top ten search results for any of the Keywords on Google has at least 2,000 words.
It is important to optimize your long-form Content for SEO.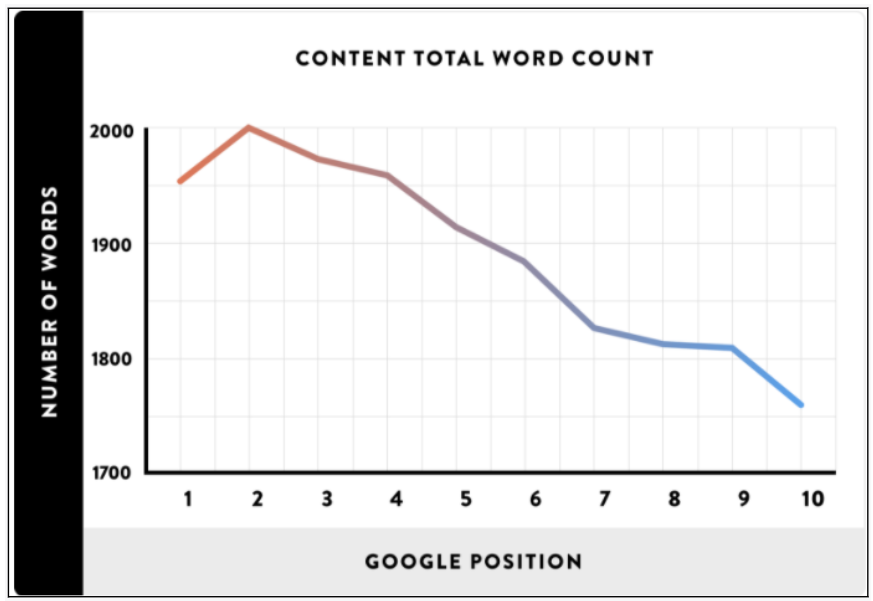 Long-form Content can be beneficial for SEO because it provides more opportunities for keywords and improves user engagement. Longer Content can help improve user engagement by providing in-depth information that readers are interested in.
To create effective long-form Content, choose relevant topics, break Content into sections, and optimize for SEO. By following these tips, you can create Content that is both valuable to readers and beneficial for SEO.
Use Multimedia in the Blog Post
If you are adding multimedia like screenshots, images, videos, gifs, etc., then it doesn't have a direct effect on your page rankings. It is good for user engagement, and Google pays more attention to user-generated signals.
This factor will not directly impact page ranking, but it is engaging for users. You might be writing long-form quality content or a blog post, but if you add images to it, then it will be presented well in front of users. Therefore I recommend you add at least 1 (video, audio, images) in every blog post that you create.
Use LSI Keywords
LSI is Latent Semantic Indexing keywords are the words or phrases that are closely related to the main Keyword that you are targeting in your Content. Using LSI keywords in your SEO strategy can provide several benefits.
LSI keywords in your SEO strategy can help to improve the relevance, visibility, user experience, and quality of your Content, which can lead to higher rankings and increased traffic to your website.
For example, if you search: "On Page Seo" on Google
You can see in the footer of your search these LSI keywords. You can also check the list of LSI keywords on lsigraph.com
Mobile Responsiveness
Make sure that your website is mobile-friendly and responsive.
Mobile responsiveness is a critical factor for on-page SEO. Make sure that your website is mobile-friendly and responsive.
A responsive design allows your website to adjust its layout and Content fit to the different screen sizes. This means that your website will look and function well on all devices, including tablets, smartphones, and desktops.
Nowadays, every user is surfing the internet with their mobile devices. With the increasing use of mobile users, Google has made it clear that it considers mobile-friendliness as a ranking factor. It means that if your website is not mobile-friendly, then it will not be considered in search engine rankings.
I recommend you test your website on mobile devices as well. Before launching your website, make sure to test it on different mobile devices to ensure that it looks and functions well on different mobile devices.
Apply Schema Markup
Schema markup is a type of structured data that can be added to your website's HTML code to provide search engines(SERPS) with more information about your content. There are around 32 types of Schema markups that are supported by Google. Example, Event Schema, FAQ, How-to, Article, Local Business, and Product Schema.
Image reference from Semrush: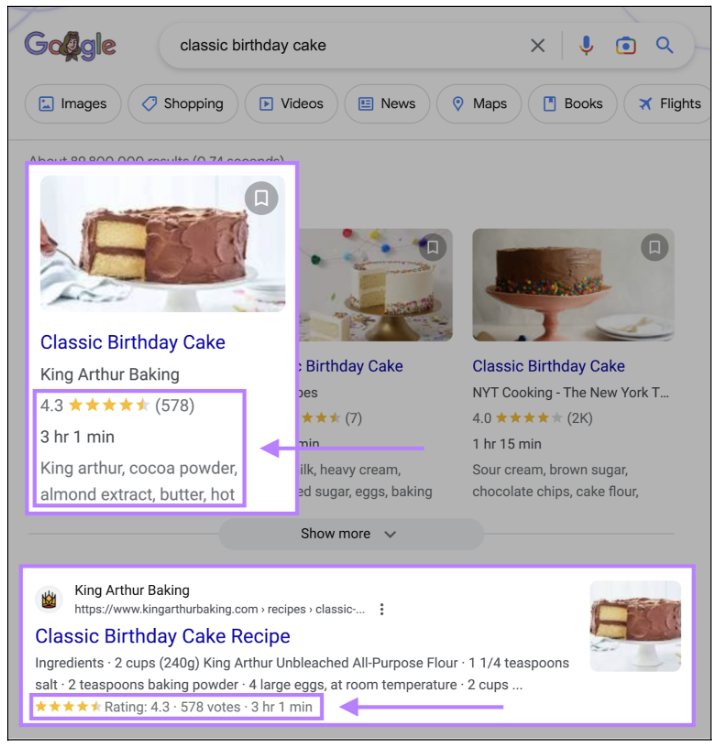 After applying schema markup to your website, it can help your content stand out in search results and provide more context to search engines.  
Schema can help search engines to better understand the context of your web page content, which can lead to more accurate search results and potentially higher rankings.
Bonus On-Page SEO Checklists
Avoid common on-page SEO mistakes such as:
Never write duplicate Content on your website, whether it's a blog post or it is page content.
You have to create unique and good-quality Content to increase engagement on the website. Content is the King in SEO and context is the Queen.
URL variants of the same pages
Do not use different URL variants of the same page.
Check the URLs of every page and ensure that variants of URLs are not available.
Also make it sure that is not similar to the other pages of the website.
Google.com may see web pages as duplicates if the URLs are too similar.
Google does this to conserve the resources when it comes to indexing & crawling
When Google thinks a page is a duplicate version of another page of the same website because it has a similar URL then it won't even crawl that page.
Avoid Duplicate Title tags and Meta Description
If you have more duplicate title tags and meta descriptions on your website, then it is harmful to your website. It will be very difficult for you to rank your website on the first page or on the top of the searches of Google.
Use title and meta description in such a way as to increase the CTR of the website. 
Benefits of On-page SEO
If you are thinking that why on page SEO is important, then here is the answer:
On-page SEO is essential for maximizing your website's visibility, attracting relevant traffic, and improving user experience. By implementing effective on-page optimization strategies, you can enhance your search rankings, increase organic traffic, and ultimately achieve your business goals.Here are some benefits of on-page SEO:
Higher Search Engine Rankings
Increased Organic Traffic
Better User Experience
Enhanced Click-Through Rates (CTR)
Targeted Keyword Optimization
Improved Mobile Optimization
Better Conversion Rates
Conclusion
Apart from the above on-page SEO Checklists 2023, remember that SEO is an ongoing process, and you should regularly monitor your website's performance on Google Search Console.
 Also, make necessary improvements to optimize your web pages for search engines.
From optimizing your Content to improving the website's technical aspects, these tips will help you stay ahead of the game.
Just follow the above on-page SEO examples and get ready to see good results. Additionally, it's important to regularly update your website with fresh, high-quality Content. 
 If you are making a new website then the SEO checklist for a new website will work for you. You can also view these on-page seo checklists excel. If you want to know How to rank your website on first page of Google then you can read this blog.